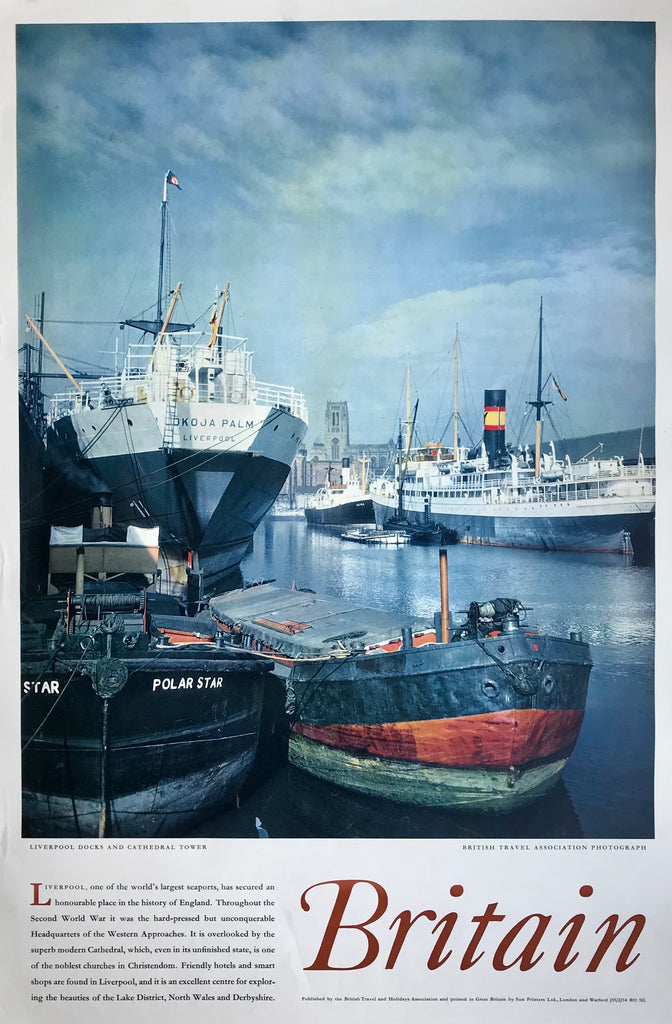 Liverpool Docks, England, 1955
AN EXQUISITE original vintage poster from 1955 featuring a view of cargo ships in Liverpool docks with the city's Church of England cathedral in the background.  
Size 76cm x 51cm
Condition  Excellent. If you would like to know more please get in touch. 
Background The unnamed photographer has captured a busy port in the days of small general cargo ships.  The SS Lokoja Palm, of the Palm Line, had a few months earlier completed a voyage carrying 40 animals for London Zoo. The SS Alca of the Yeoward Line, on the right, was a veteran of nearly 30 years at sea. She may have been unloading her last cargo: she was broken up at Preston in 1955. The text at bottom left, which also refers to Liverpool's wartime role, boldly describes the cathedral as 'one of the noblest churches in Christendom'.   
Photographer Not identified.
Printer  Sun Printers, London and Watford
Publisher British Travel and Holidays Association
---
---
More from this collection