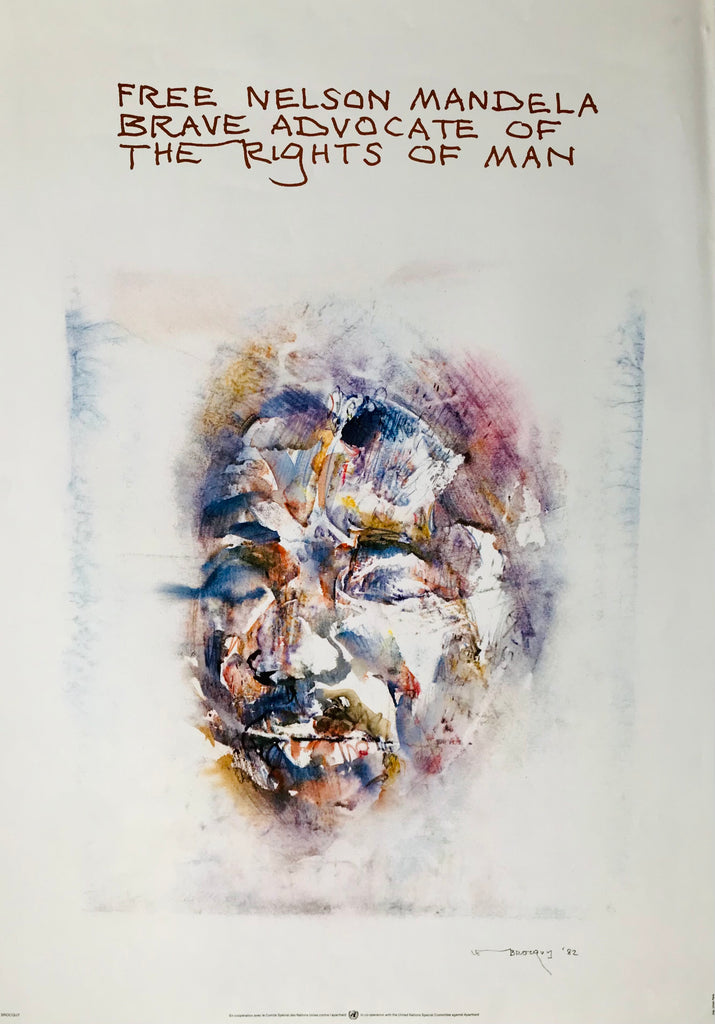 Free Nelson Mandela: Louis le Brocquy, c1983
A HISTORIC anti-apartheid poster from c1983 featuring a portrait of Nelson Mandela by leading Irish artist Louis Le Brocquy and with the words: 'Free Nelson Mandela: Brave advocate of the rights of man'. 
Size  85cm x 60cm
Condition   Good. There is discolouration and minor folding at the top right margin. If you would like to know more please get in touch. 
Background   Le Brocquy (1916-2012) is among the most highly regarded Irish artists. This portrait, dated 1982, may have been painted specifically to support Artists of the World Against Apartheid, which mounted exhibitions worldwide to promote the cause. Painting Mandela was challenging: though he was the world's most famous prisoner, his appearance was a mystery at this time since no new photograph of him had emerged since his imprisonment in 1962. At the bottom of the poster are the words: 'In cooperation with the United Nations Special Committee Against Apartheid'.
Artist  Louis Le Brocquy
Printer  Not identified
Publisher   Artists of the World Against Apartheid
---
---
More from this collection