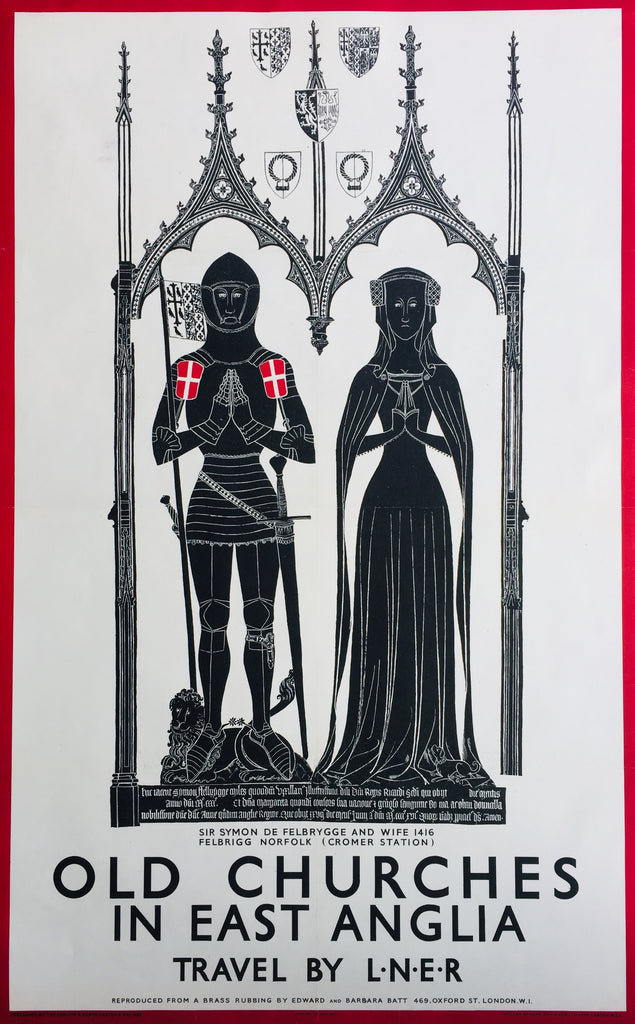 Old Churches in East Anglia, 1934
A BEAUTIFUL and romantic original vintage poster from 1934 issued by the London and North Eastern Railway (LNER) and featuring a brass rubbing image of a prominent mediaeval English knight and his wife, who was Bohemian. 
Size
102cm x 64cm
Condition
Very good. This poster has recently been expertly cleaned and mounted on Japan paper. If you would like to know more please get in touch. 
Background
Published by LNER and printed by Vincent Brooks Day and Son Ltd of London, the poster is dated 1934 by the Science Museum and Getty Images. Sir Simon Felbrigg was a senior knight in the service of Richard II and his first wife Margaret was a close companion to Richard's queen, Anne of Bohemia. The heraldry in the poster makes these connections. In fact only Margaret was buried beneath this brass, which was created on her death in 1416.
In the inscription the date of Sir Simon's death was left blank and has never been filled in. He married again and was buried alongside his second wife in Norwich. The brass rubbing is credited to Edward and Barbara Batt. 
---
---
More from this collection