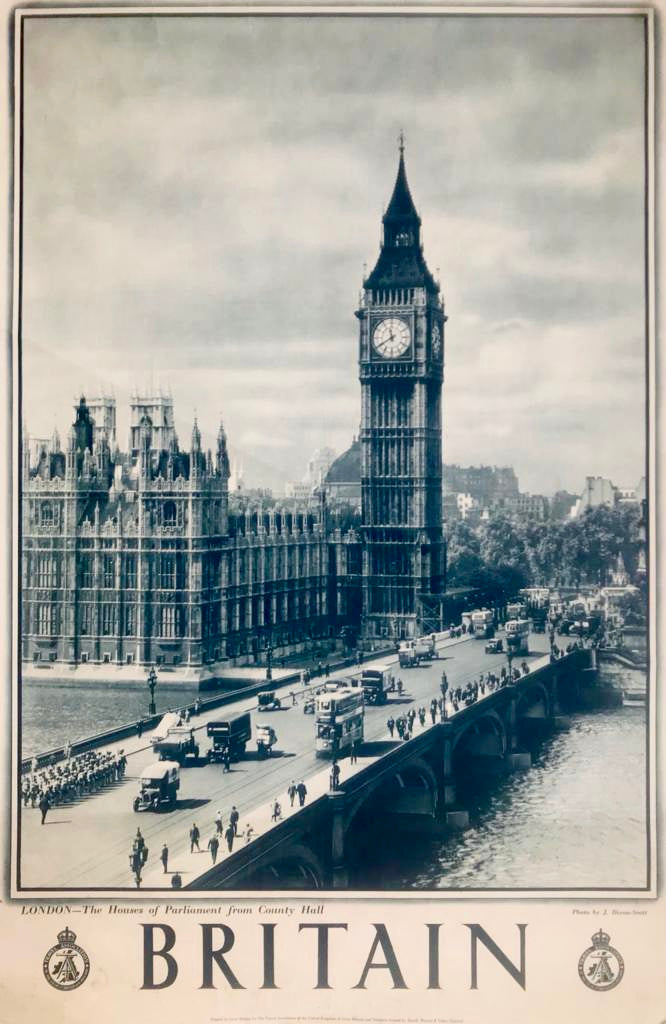 London – The Houses of Parliament from County Hall, 1940s
A VERY FINE original vintage poster from 1945-50, showing a classic London view by John Dixon-Scott of the Houses of Parliament and the tower popularly known as Big Ben, with a bustling Westminster Bridge in the foreground. 
Size 77cm x 51cm
Condition Very good. If you would like to know more please get in touch. 
Background Dixon-Scott was a prolific and respected photographer with a mission to capture with his camera the changing British landscapes and lifestyles of his time. This grand view, with its historic backdrop, is striking for the range of vehicles – trams, buses, lorries, cars, bicycles – seen crossing the great bridge. On the left is also an infantry platoon. The tower in the centre, built in the 19th century, is best known by the name of the great bell it houses, Big Ben, though formally it is the Elizabeth Tower. The poster is undated, but the Travel Association of the United Kingdom operated under that name only between 1945 and 1950. 

Photographer John Dixon-Scott
Printer  Watson and Viney Ltd
Publisher  Travel Association of the United Kingdom of Great Britain and Northern Ireland
---
---
More from this collection