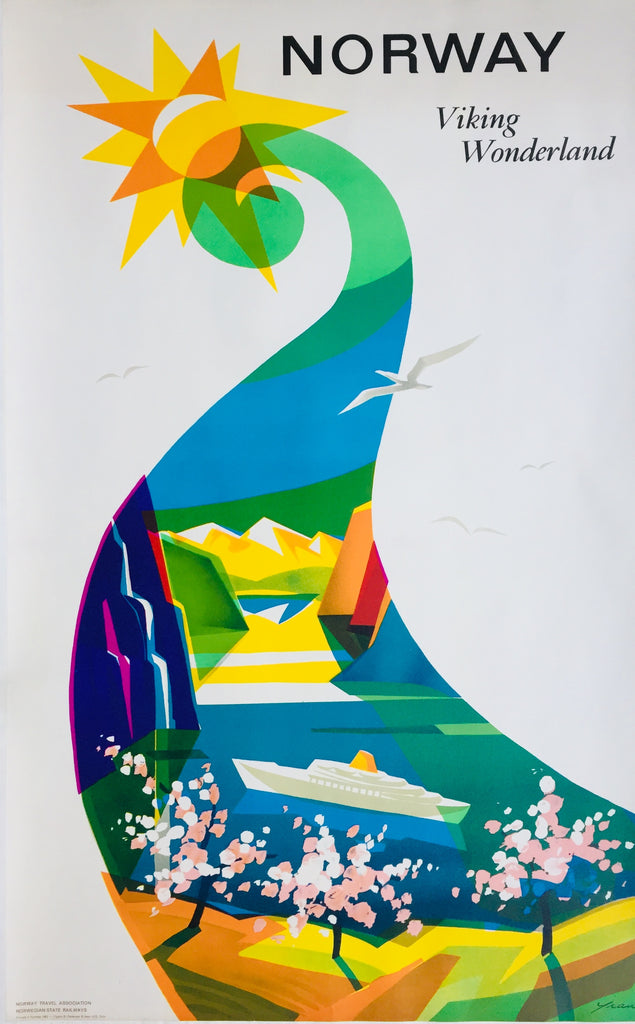 Norway, Viking Wonderland, 1962
A BOLD and stylish original vintage poster from 1962 by the leading Norwegian artist and designer Knut Yran (1920-98), featuring a colourful fjord scene set into a silhouette of the prow of a Viking ship.
Size
100cm x 62cm
Condition
Very good. This poster has recently been expertly cleaned and mounted on Japan paper.  If you would like to know more please get in touch.
Background
A prominent figure in Norwegian design history, Knut Yran won the competition to design the Oslo Winter Olympics poster of 1952 and went on to create many more. This one was for the Norway Travel Association and Norwegian State Railways.
In the later 1960s Yran was appointed head of design for Phillips in the Netherlands and had an influential role in developing the company's style. The ship's prow here appears to be inspired by the 9th century Gokstad Viking ship, preserved in Oslo. The poster was printed by Trygve Pedersen & Senne of Oslo.
---
---
More from this collection