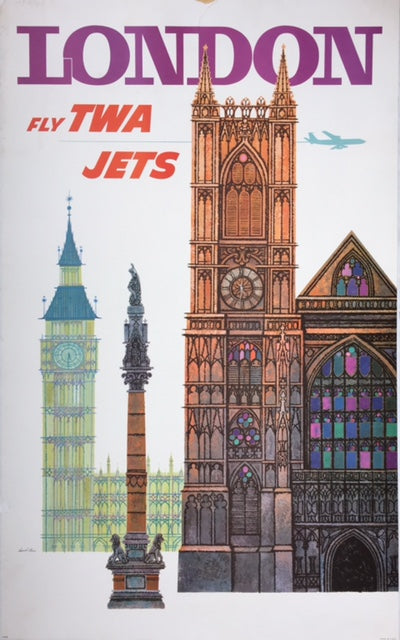 TWA London, 1960s
A VERY FINE poster for TWA by the great designer David Klein (1918-2005) featuring London landmarks and dating from the early 1960s.
Size
104cm x 64cm
Condition
Good. We have recently had this poster expertly cleaned, conserved and mounted on Japanese paper. A small stain remains on the margin at the top. If you would like to know more please get in touch. 
Background
Klein is credited with capturing the glamour and style of the early jet age. Here he links TWA, jets and the silhouette of a Boeing 707 streaking across the sky, with three historic monuments in central London. They may appear to be in a contrived arrangement but it is a real view: the ancient Westminster Abbey on the right, next to the Westminster Scholars War Memorial dating from 1861, with the Elizabeth Tower of the Palace of Westminster across Parliament Square in the background. The Tower houses the famous bell known as Big Ben. The small text elements are the artist's signature, the words 'Litho in USA' and '#1065'.  
---
---
More from this collection