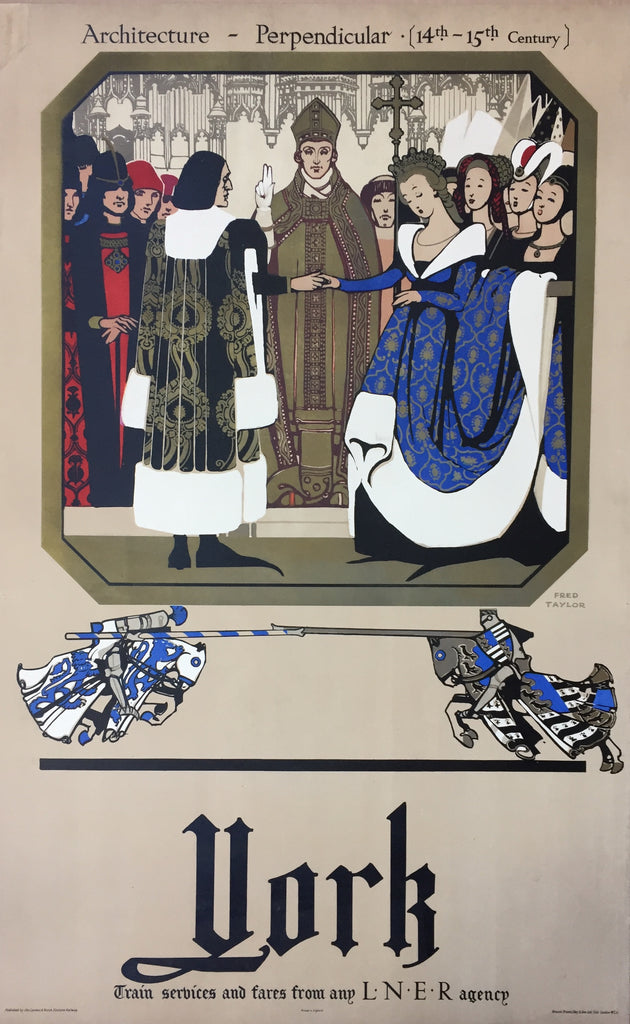 York, England, Perpendicular Architecture, c1932
AN EXQUISITE original vintage poster of around 1932 by the leading graphic artist Fred Taylor (1875-1963) for the London and North Eastern Railway Company (LNER), depicting a medieval aristocratic wedding in York Minster. 
Size
102cm x 64cm
Condition
Very good. We have recently had this poster expertly cleaned and restored to museum standards and backed on Japan paper. Damage to the top left corner has been made good. If you would like to know more please get in touch. 
Background
Taylor was among the leading poster artists in the inter-war and early postwar years, working mainly for the railway companies. His particular taste was for architectural subjects. This was one of a series ostensibly on the theme of historic architectural styles (perpendicular, decorated, Norman, Tudor) linked to places served by the LNER (Ely, Lincoln, Cambridge, London, Selby). Almost as if Taylor were making a joke, however, the illustrations were not primarily of buildings. The bold use of colour here, and especially of white, is characteristic of Taylor. We have not been able to identify the richly-robed couple or the heraldry beneath. The printer was Brooks, Day & Son of London. 
---
---
More from this collection