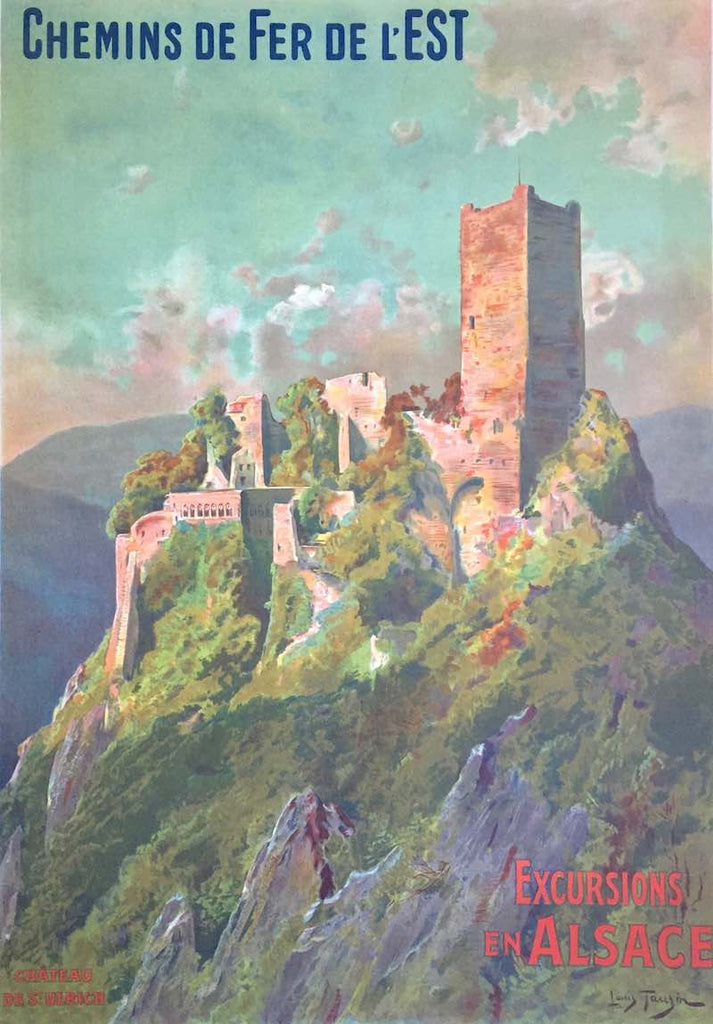 Chateau de Saint Ulrich, Alsace, France, c1900
A SPECTACULAR original vintage poster by the artist Louis Tauzin (1842-1915) for the rail company Chemins de Fer de l'Est showing the ruins of the chateau of Saint Ulrich above the town of Ribeauvillé in Alsace, eastern France. The Bibliotheque National (National Library) in France has dated this poster to about 1900.
Size
106xcm x 78cm
Condition
Very good. We have recently had this poster expertly cleaned and conserved. It is backed on Japanese paper. If you would like to know more please get in touch. 
Background
Tauzin was a respected landscape artist who created posters for a number of French rail companies. The mediaeval caslte, one of three overlooking Ribeauvillé, takes its name from the chapel to Saint Ulrich within its walls. It is also known as the chateau de Grand-Ribeaupierre. The Compagnie des Chemins de Fer de l'Est, linking Paris with the eastern provinces of Alsace and Lorraine, existed from 1853 to 1938. The printer is F. Champenois of Paris, with whom Tauzin collaborated on a number of posters. 
---
---
More from this collection