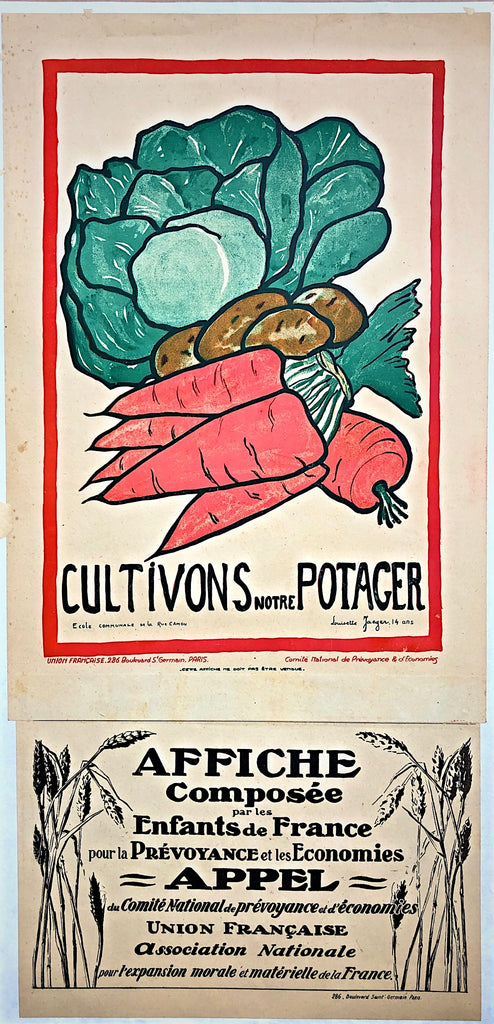 'Let's Grow Vegetables', First World War propaganda poster, France
A RARE original vintage First World War French propaganda poster urging the public to grow their own vegatables, using a charming illustration of carrots, potatoes and a cabbage by a 14-year-old Paris schoolgirl, Louisette Jaeger. Unusually, this poster comes with an explanatory panel from the Comité National de prévoyance et d'économies. 
Size 38cm x 81cm
Condition Excellent. The poster has recently been cleaned and restored to museum standards and backed on Japan paper. If you would like to know more please get in touch.
Background Copies of this poster, apparently without the supporting panel, are held in the Library of Congress in Washington, the Imperial War Museum in London and the Musée Carnavalet in Paris. Dated between 1916 and 1918, it was one of a series promoting self-sufficiency in domestic life using illustrations by schoolchildren. The lower panel refers to the Comité National de prévoyance et d'économies, Union Francaise, and the Association Nationale pour l'expansion morale et matérielle. 
---
---
More from this collection