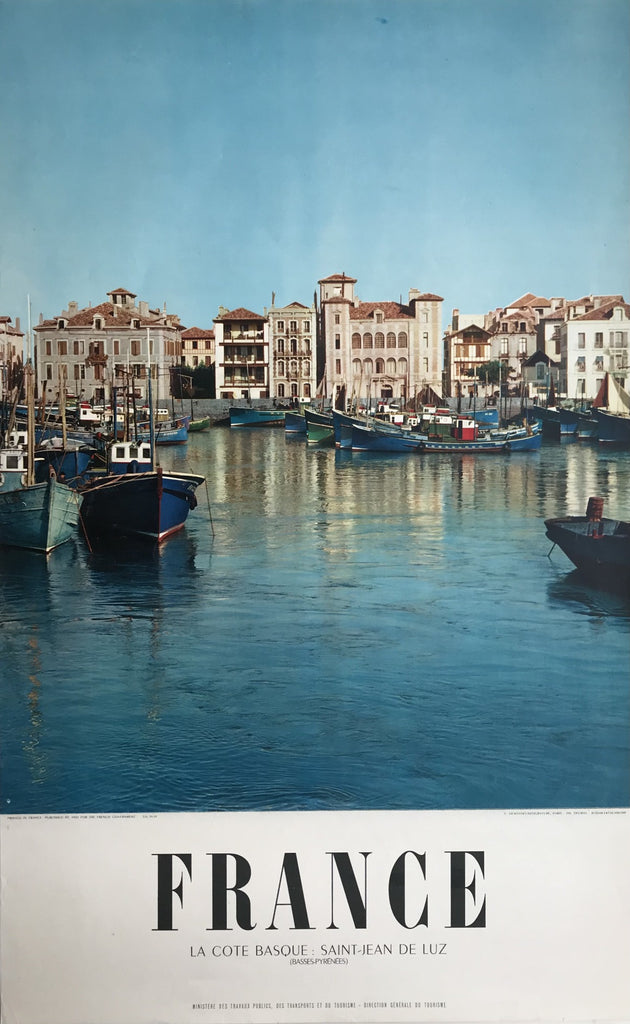 St-Jean-de-Luz, Basque Country, France, 1956
A FINE original vintage poster from 1956 showing the old port of St-Jean-de-Luz, on the Atlantic coast close to France's border with Spain, with the landmark Infanta's House at the centre.   
Size 99cm x 62cm
Condition Good. The poster has been folded across the bottom of the image but the mark is barely visible. Small pinholes. If you would like to know more please get in touch. 
Background  St-Jean-de-Luz took its place in the history books when in 1660 it was the scene of the marriage of the young Louis XiV – France's 'Sun King' – to the Spanish Infanta, Princess Marie-Thérèse. The house in which the Infanta stayed, the house with three turrets, remains one of the town's principal attractions. In 1956 St-Jean-de-Luz was gaining in popularity as a beach resort.  
Photographer Delmas
Printer Desfossés-Néogravure, Paris
Publisher Ministère des Travaux Publics, des Transports et due Tourisme, Direction Générale du Tourisme
---
---
More from this collection