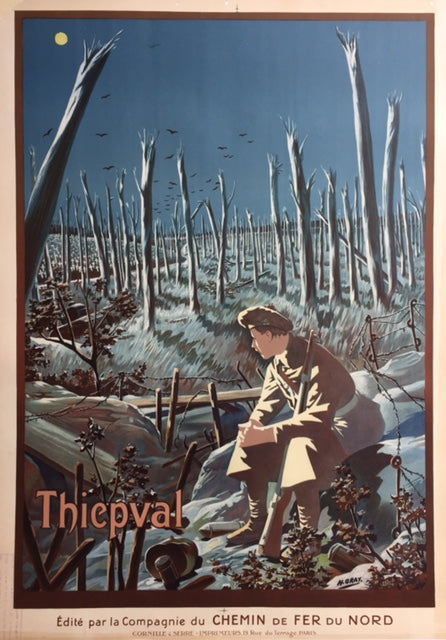 Thiepval, First World War, France, c1919
A HAUNTING and historic original vintage poster showing a British soldier of the 36th (Ulster) Division resting at Thiepval on the battlefield of the Somme. The poster was issued by French railways after the First World War to advertise tours of battle sites, notably for relatives of those who fought. The artist is Henri Gray, also known as Henri Boulanger (1858-1924).
Size
105cm x 76cm
Condition
Very good. We have recently had this poster expertly cleaned, conserved and backed on  Japanese paper. If you would like to know more please get in touch. 
Background
Issued by the Compagnie du Chemin de Fer du Nord and printed by Cornille and Serre of Paris the poster is undated but is probably from 1919, when the company launched these tours, or at latest 1920. Thiepval was a well known name in the UK, especially in Ulster. The 36th Division suffered heavy losses there in the first days of the Battle of the Somme in 1916, and the soldier, sitting on the edge of a captured German trench, can be seen gazing towards massed graves in the distance. Henri Gray was a French artist who had enjoyed success as a creator of advertising posters in the 20 or so years before the war. 
---
---
More from this collection