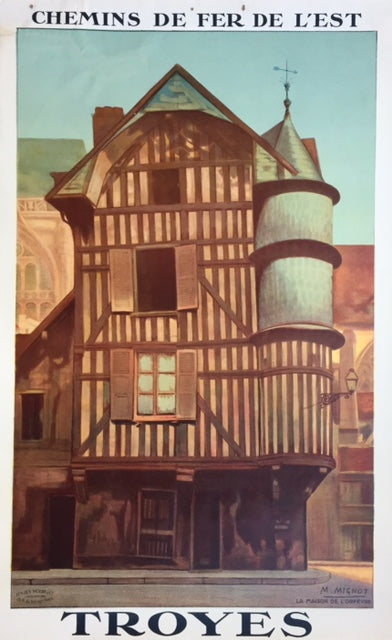 Troyes, France, 1930s
A MOODY original vintage poster by M. Mignot promoting the historic French city of Troyes, southeast of Paris, issued by the regional railway company Chemins de Fer de l'Est in the 1930s or before.
Size
100cm x 62cm
Condition
Good. The top border is marked by punch-holes from which the poster has been hung, and a tear on the top left has been repaired. If you would like to know more please get in touch. 
Background
The poster depicts the famous Maison de l'Orfèvre (House of the Goldsmith), one of the 16th-century half-timbered buildings for which Troyes is known. It is not dated but must have been issued before the end of 1937, when Chemins de Fer de l'Est ceased to exist. Printed by Lucien Serre, Paris. 
---
---
More from this collection